There are two locations to manage your Audiogon Insider™ Subscription. In both locations, you are able to see when your next renewal date will be.
1) From the Audiogon Insider™ Page, where you originally signed up.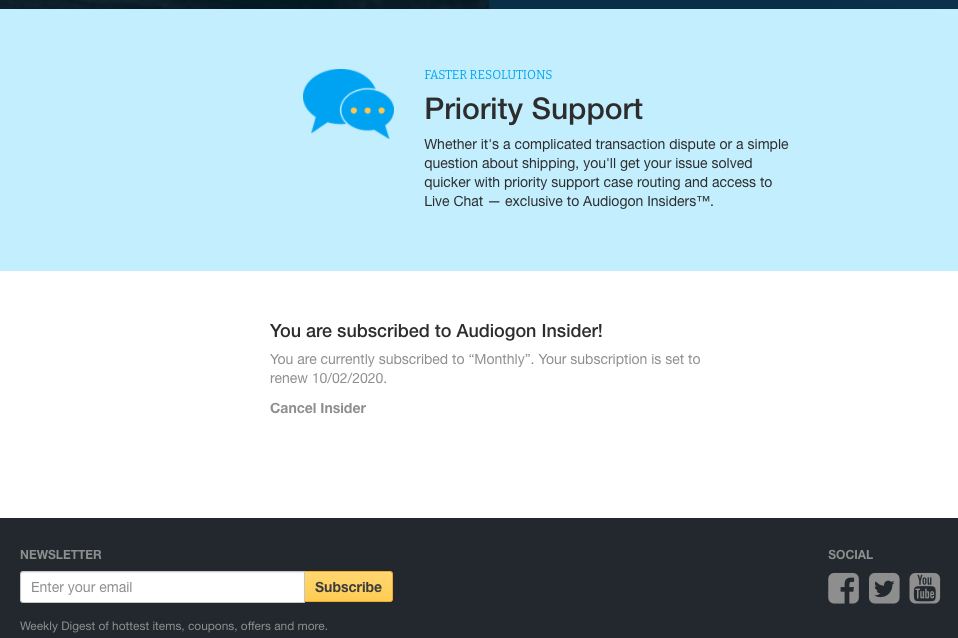 2) From the Insider™ Section of your User Payment settings

Simply click on Cancel Insider, and confirm your decision.
Cancelling Your Subscription
Audiogon Insider™ subscriptions are self-serve with no commitments. You may cancel at any time, and rejoin at any time.
To avoid your next charge, cancel at any time before your next billing date. Your billing date is dependent on your payment option—monthly or annual.
There are no refunds or proration for canceled Insider™ subscriptions; though, you will retain your membership through your next billing date.
i.e. Your next billing date is 20 days in the future. You may cancel and still enjoy the benefits of your subscription up to that date.
Managing Legacy Bluebook Subscription
If you do not see these management options or know that you signed up prior to 2019, you may be on our legacy Bluebook subscription. These subscriptions were grandfathered in when we introduced the Insider™ program, and while they have the same benefits, they must be managed directly on Bluebook.

For more information: How do I manage my Bluebook Account? (Legacy)