What is Escrow?
An escrow is a financial arrangement where a third party holds and regulates payment of the funds required for two parties involved in a given transaction. The escrow process helps make transactions more secure by keeping the payment in a secure escrow account, which is only released when all of the terms of an agreement are met, as overseen by a licensed escrow company.
How Does Escrow.com Work?
Escrow.com reduces the risk of fraud by acting as a trusted third party that collects and holds funds from the Buyer, and only disburses funds to the Seller once both the Buyer and Seller are satisfied.
Buyer and Seller agree to terms.

Buyer submits payment to a secure Escrow Account.

Escrow.com verifies payment.

Seller is notified that funds have been secured and can ship product.

Escrow.com verifies Buyer receives merchandise.


Buyer has set number of days to accept or reject product.

Once Buyer accepts merchandise, Escrow.com pays the Seller.
Payment Options
Escrow.com offers many types of payment options, including wire transfers, checks and money orders, credit cards and PayPal. Payment types may have certain limitations, however. For example, credit cards and PayPal are subject to additional fees and have a maximum of $5,000, while checks and money orders have a $2,000 maximum and are subject to a hold of 10 business days.
Fees
Escrow.com's fees per transaction are as follows:

Item Cost
Fee
$

0-$5,000

3.25%

$5,000.01 - $25,000

$162.50 + 0.26%
of amount over $5000

$

25,000.01 +

0.89%
Escrow.com's fees are slightly higher than PayPal's at first, but become cheaper at higher transaction amounts. This is because they guarantee no chargebacks, and preemptively prevent fraud. PayPal, on the other hand, exposes you to chargebacks for up to 6 months after a purchase is made.
Who Pays The Fees?
The Seller decides at the time of listing who will pay the Escrow.com transaction fees. The Seller can choose to incur all fees, pass all fees onto the Buyer, or split fees between the Buyer and Seller 50/50. This is listing-dependent, and can be adjusted after the fact before finalizing a transaction.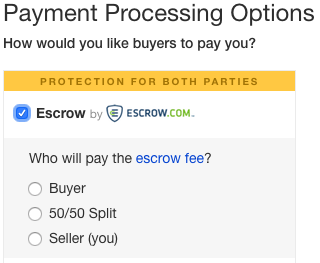 For more information, feel free to visit the Escrow.com website.