If your question is not answered here, please contact us directly at Audiogon Support.
What is Buy It Now?
When posting a classified, you will be prompted to enter an Asking Price, and choosing whether to include a Buy It Now option or not. If you include the Buy Now option, then you will be selling at your asking price to the first buyer who hits the Buy It Now button on your listing. (You will also be able to choose if buyers can submit offers or not). If you do not include the Buy It Now feature, then you will only receive Offers on that listing, which you can either Accept or Decline, and thus choose your buyer.
Buy It Now is enabled by default for private users.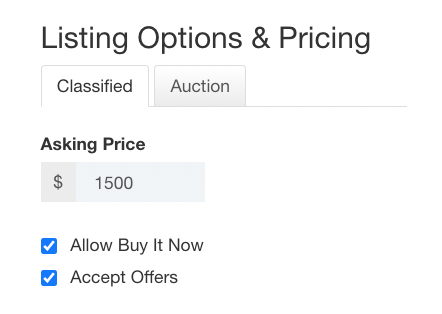 If you wish to sell quickly, then post your classified with a reasonable Asking Price, and include the Buy It Now option. In most cases, your item will sell within the first 24 hours if priced well.

On the other hand, if you would like to choose your buyer (based on feedback, location, etc), then do NOT include the Buy It Now option. In that case your Buyers will submit offers and you will have time to decide which buyer to transact with.


Purchase Cancellation Requests
You cannot cancel a transaction after you have confirmed the Buy It Now screens. Therefore, you should be very sure that you are able and willing to follow through with the purchase before choosing this option. This means asking any questions to the seller regarding item condition, photos, etc BEFORE choosing Buy It Now. If you do not follow through with the purchase, you will be assessed a $19 penalty backout fee. Additionally, the seller will be able to leave negative feedback and you will be penalized. Repeat instances of this may result in cancellation of your Audiogon account.
Tracking your Purchase
To see what purchases you have made, you will go to your Dashboard and then view your Buying page. This shows all recent items you have offered to buy. The Bought tab will show auctions and classifieds you previously won.
In addition to your Dashboard, you will receive an email whenever you choose Buy It Now. Email notifications are sent immediately, however it may take a few minutes for you to receive it.
Why don't all listings have Buy It Now?
Audiogon allows the seller to choose whether or not to include Buy It Now as an option for each listing. Some sellers prefer to screen buyers based on feedback, location, ease of shipping, etc, rather than selling to the first buyer to hit the Buy It Now button. Certain types of items such as records or cables are more likley to have Buy It Now, whereas tube amplifiers and large speakers are less likely to have this feature.