PayPal Integration Update - November 2022
As of November 2022, Audiogon has transitioned to a newer, more secure PayPal integration. Users will connect their PayPal account to Audiogon by signing into PayPal. This confirms that you are the owner of the PayPal account associated with your Audiogon account.
If you previously had your PayPal email address added to your account, you will need to securely Connect With PayPal before you can list items. You do not need to connect your PayPal account as a buyer.
Connect With PayPal
Instead of an email address, we now initiate transactions using your PayPal Merchant ID. Every PayPal account has a Merchant ID regardless if it is a personal or business account. This way, your email address is not stored, or shared, on our website.
There are two places where you can Connect With PayPal
Navigate to your User Settings and you'll see the button to start the process below your phone number. Just click it, and a modal will appear to log in with your credentials. You will be prompted to choose how you use your Paypal account: Personal use (hobby buying/selling) or Business (commercial use). Choose the option that fits your situation, and you're all set.




If you start a listing and haven't yet connected your PayPal, you will be prompted to do so prior to selecting it as an available payment method for your item.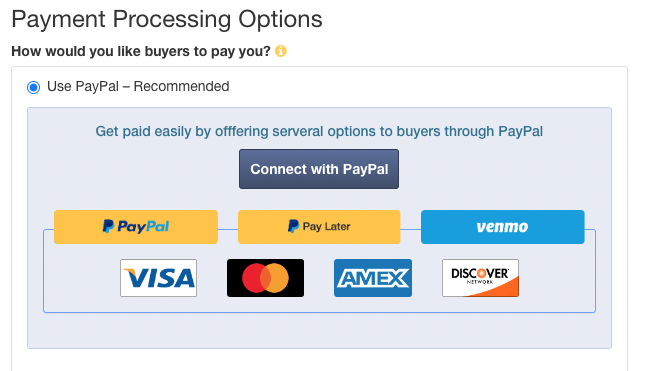 Errors When Connecting
If you experience an error while attempting to Connect With PayPal, it is most likely that the account you are trying to connect is already associated with Audiogon.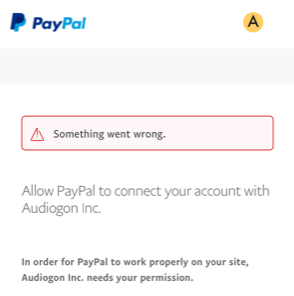 We do not allow a single PayPal account to be connected across multiple Audiogon accounts. To resolve this you can Disconnect your PayPal Account on PayPal and try again. If that does not work, contact support for assistance.
Using PayPal as a Seller
Our integration does not require a buyer to have a PayPal account. They can pay with a credit card directly, and the funds will process to the seller's PayPal. Obviously, if the buyer has a PayPal account they can use it and choose to pay with whatever funding sources they have added.
Other payment methods available to Buyers are PayPal Pay Later and Venmo (if buyer is on mobile device).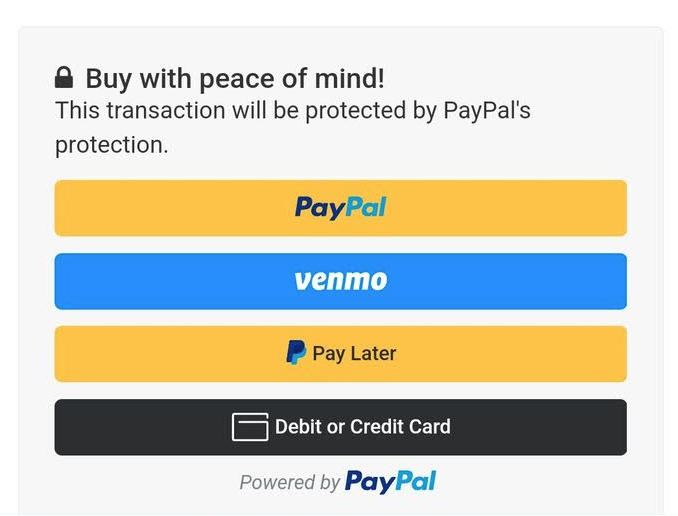 PayPal Refunds
For transactions where buyer and seller used PayPal as the payment method to complete the purchase, the seller must login to their PayPal account directly to issue a refund. Refunds cannot be managed from your Audiogon account.
Disconnecting PayPal from Audiogon
With our integration, you are in control of your data privacy. Once connected, there are two ways to disconnect your PayPal account from Audiogon.
Disconnecting on Audiogon. Go to your User Settings. Simply click the "Disconnect your account" link and confirm you want to proceed.




Disconnecting on PayPal. While logged in on PayPal.com navigate to Settings > Data & Privacy. Choose the first option on the page "Permissions you've given."


This will bring up a page that shows you everywhere your PayPal account is connected. Remove the "Audiogon PPCP" permission and/or the "audiogon" permission (this is the legacy PayPal connection prior to November 2022).