Audiogon allows sellers to use a CSV (comma-separated values) file to import products as new listings. When you use a CSV file, you can import a large number of products and their details at one time.
To learn more about how to use CSV files, refer to Using CSV Files.
On this page
Video Overview
Below is a video walkthrough of the Bulk Uploader.
Accessing the Bulk Uploader
Currently, the Bulk Uploader is reserved for select users in our Dealer Program. If you are interested in gaining access, please reach out to via the Dealer Program page.
If Bulk Uploader is part of your subscription tier, you will a Bulk Upload button on the Sell Page.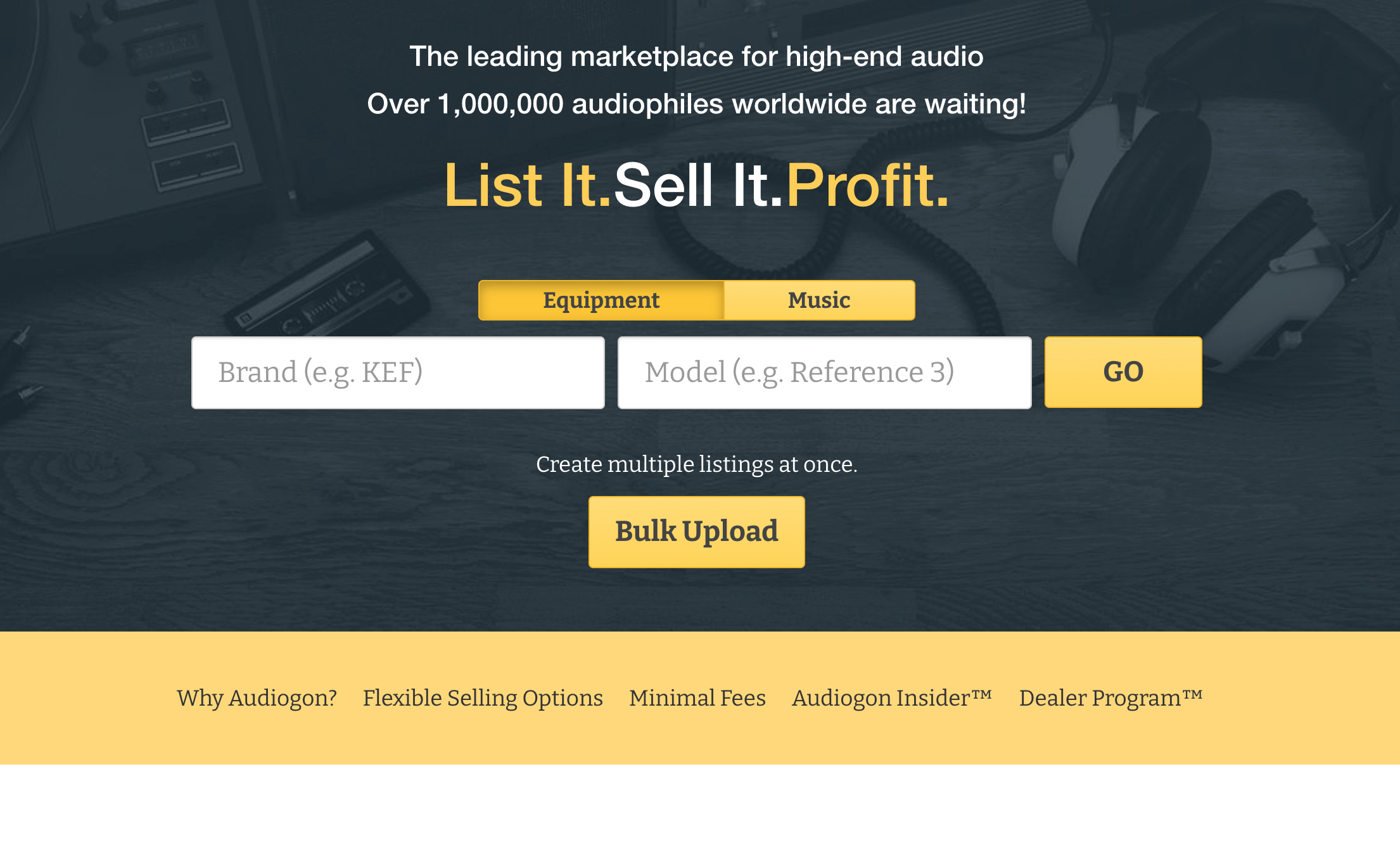 And a Bulk Uploads tab in your Marketplace dashboard.

Clicking on that tab will take you to the Bulk Uploader dashboard. This page will allow you to pick back up on any bulk listings you started but didn't complete, as well as show any previous successful files you uploaded.

Clicking Upload Bulk Listings button takes you to the Bulk Uploader start page where you can select your CSV, and begin.

Understanding the Bulk Uploader
The Bulk Uploader is made up of several components to make creating bulk listings as easy as possible: CSV Import, Import Wizard, and Default Listing Preferences.
CSV Import
You'll create a CSV containing all the products you want to list on Audiogon. We provide 28 different fields for you to make listing-specific choices (These three listings ship to US & Canada. These eight listings ship only to US. These two listings ship Internationally). Once you upload the CSV you'll be able to preview the data to ensure it is the correct CSV or that there aren't any unwanted special characters.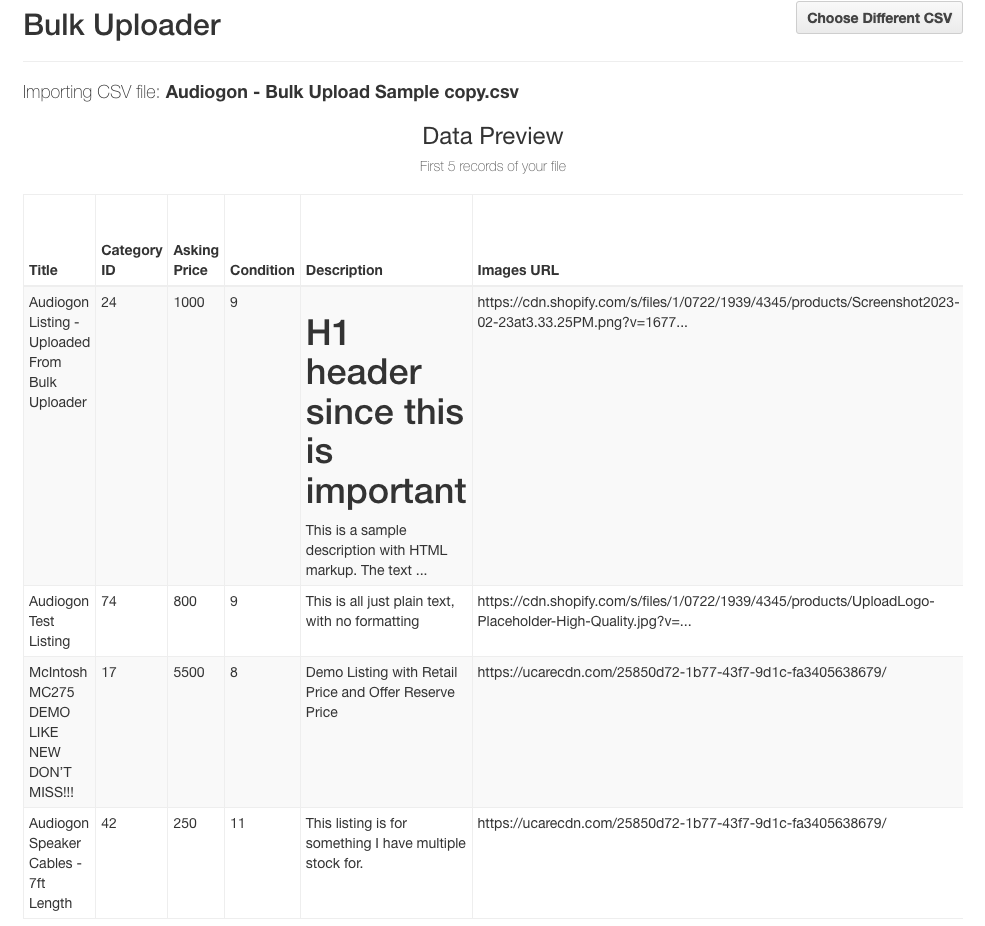 Import Wizard
After you select your CSV, you will map your columns to Audiogon's fields. If you use our sample CSV file, we will recognize the column names and automatically map the fields for you, saving you time. We also recognize Shopify product export CSVs and will map the few default, relevant columns automatically (e.g. Body (HTML) -> Description).
Values provided in the CSV will not be overwritten by choices made in the Import Wizard or DLP.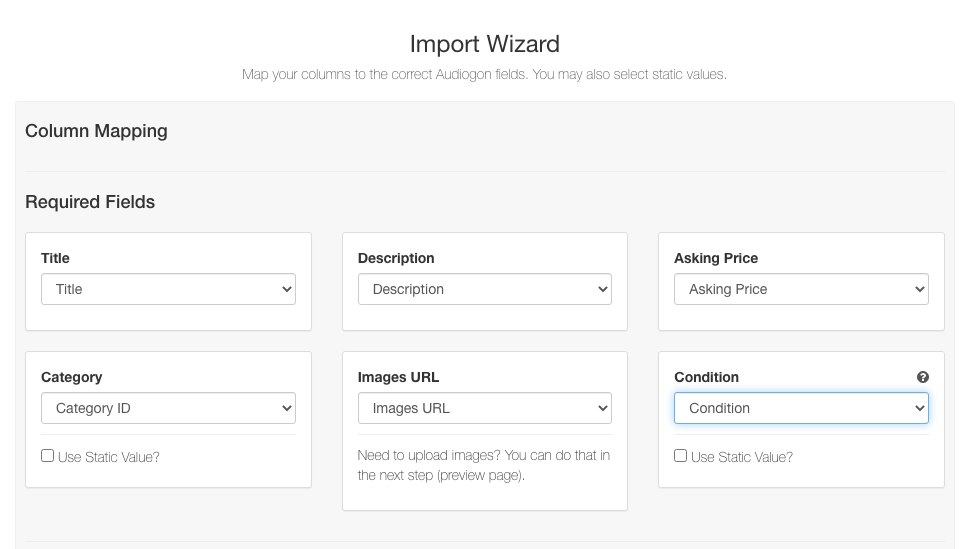 While our Bulk Uploader allows for listing-specific settings across 28 different fields, it is unlikely you will need to even include most columns in your CSV, as you can make global choices.
Listing Options
Shipping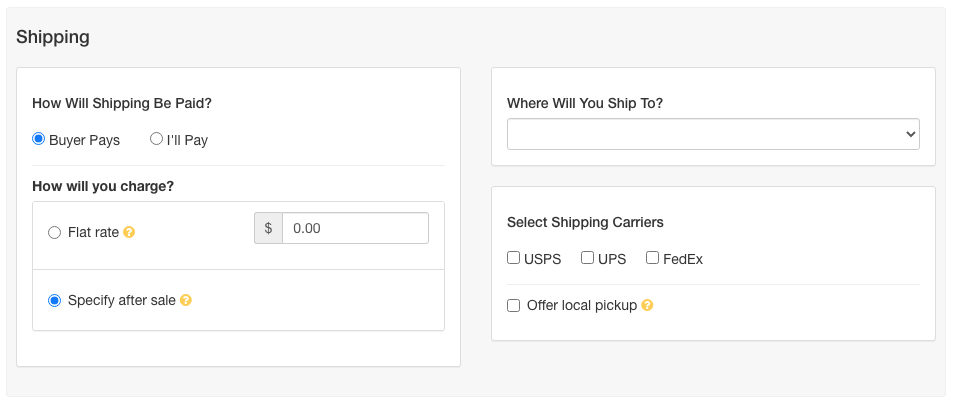 Purchasing Options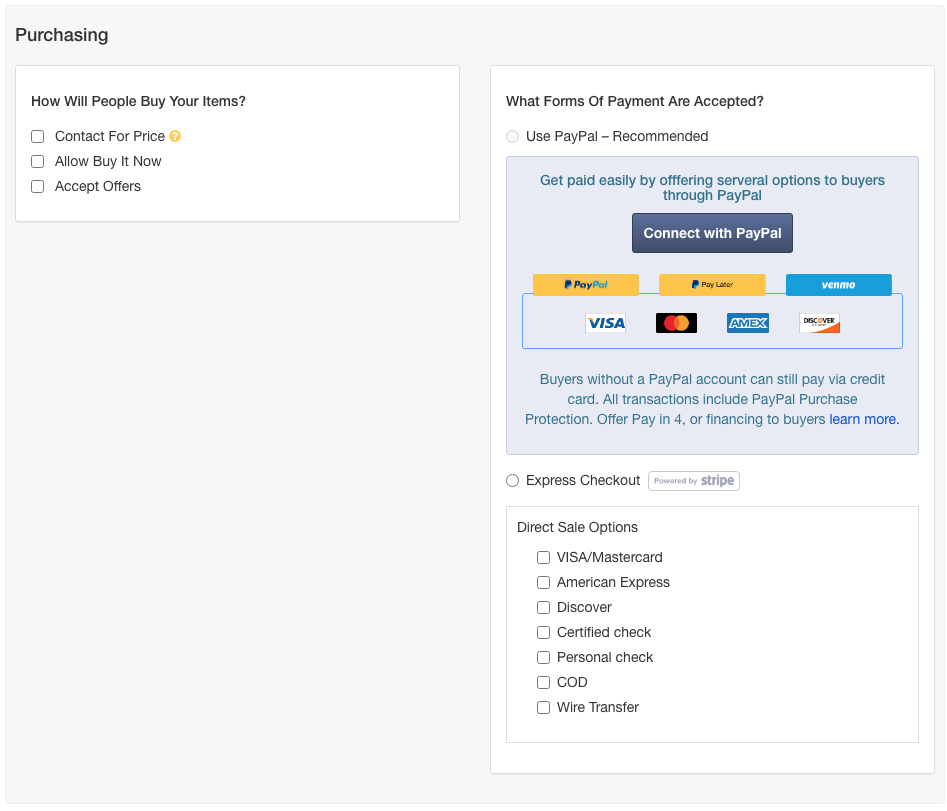 Default Listing Preferences
The choices you have saved in your Default Listing Preferences will be imported into the Bulk Uploader. The goal is to remove repetitive option selections for the majority of your listings, while allowing you customization on a per-listing level for exceptions.
e.g. You have Allow Buy It Now checked but not Accept Offers in your DLP. We reflect that in the Import Wizard.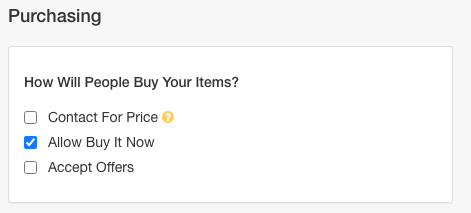 Download a sample CSV file
You can download and view a sample listing CSV file to use as a template. These files also contain our Category ID Taxonomy in a separate worksheet.
Audiogon Bulk Upload Sample Google Sheet

You can easily make a copy of this sheet to your own Google Drive.
The sample file contains several example product listings. Your import file may contain many more products. If you use the sample file to create your own import file, then make sure that you remove all the example products.

The sample file includes the all import columns, which may not be necessary for your needs.

The Bulk Uploader allows for powerful control via the Bulk Import Wizard and your Default Listing Preferences. These two things can make bulk setting changes for your imported listings, and set default values (e.g. "I always ship to US & Canada"), which can make many of the imported columns unnecessary for you to provide values for.
Considerations for the listing CSV file
Before you use a product CSV file, review the following considerations.
Formatting the listing CSV file
For your product CSV file to function correctly, verify the that it meets the following criteria:
The first line of your product CSV file must be the column headers as specified in the product CSV description table.

Each column must be separated by a comma.
If you use Excel to edit your CSV, then check Excel's export settings when you export the CSV to ensure that your file uses commas between values.
Required columns in the listing CSV file
These columns must be present under the following conditions:
Title, Category, Asking Price, Description, Condition, Images URL are required fields. When you create a listing CSV file to import, these columns must have appropriate values.

Quantity is assumed to be 1 if a value is not explicitly provided, or the column is not in the CSV.
Create your listing CSV file
After you have all your products and images, save your CSV file in UTF-8 format using LF-style linefeeds. If you're not familiar with encodings, then see your spreadsheet or text editor program's documentation.
To view an example CSV file, use one of the sample bulk upload files below
Audiogon Bulk Upload Sample Google Sheet

Easily make a copy to your Google Drive
Prepare your images
A CSV file can only contain text, therefore, you need to make sure that all product images are on an existing website. Those image URLs are only used during the CSV file importing process. You can delete the URLs after your import is complete.
If the files are only on your computer, then to link to their URL, you must upload them to your eCommerce site, your Shopify store, or to another image hosting service.
When you have URLs for each product image, you can start building your CSV file.
Adding multiple listing images in a CSV file
You can add more product images to your CSV file by uploading more images to your Shopify admin. If you're building your Shopify store with a CSV file, then the process is a little different. Review the following considerations:
You need to be able to edit a CSV file. Shopify recommends using Google Sheets to view a formatted version of your CSV files.

You can add up to 250 images to a product.

For Audiogon to import your product images, theymust be uploaded to a publicly accessible URL. That is, they should be behind an https:// protocol with no password protection. There are plenty of hosting sites that can do this. However, you most likely have hosting if you have a website. One example is uploading image files to your Shopify store.

To do this, you can upload images to the Files page of the Shopify admin. The URLs generate automatically. After you click Upload files, you can select up to a couple hundred images to upload in bulk.
Add multiple listing images to your CSV file
Once your images are externally hosted, and you have the image URLs, you can add multiple images to a single listing by simply separating the URLs by a comma in the Images URL column. We will then fetch those images and add them to the listing.