With thousands of products being added to our site daily, it can sometimes be daunting to find a specific product you are looking for. Whereas Follow a Product is designed to keep you informed of a specific model, sometimes you may want more broad coverage.
Saved Searches allow you to easily recall keywords, applied filters and sorting settings to make finding that gem you've been on the hunt for easier.
Editing Your Search Preferences
To create your saved search, simply type in the keyword, model, or brand of the item you are looking for, then apply any filters in the sidebar (limit to a specific category, condition, demo items, etc.) and then adjust your sort preferences (ending soon, price: low-to-high, etc.).
Here is an example of a saved search with the following conditions:
Keyword: "mcintosh"
Condition: 7-10 (Good to Mint)
Listing Type: Auction or Classified
Price Maximum: $5,000
Demo Item Only
Sorted By: Ending Soon
Saving Your Search
Once all your preferences are set, simply click on the green Save icon.

A modal will pop-up that will let you name your Saved Search for easy reference. You will also have the ability to activate a daily digest email that will be sent only when new listings match your search.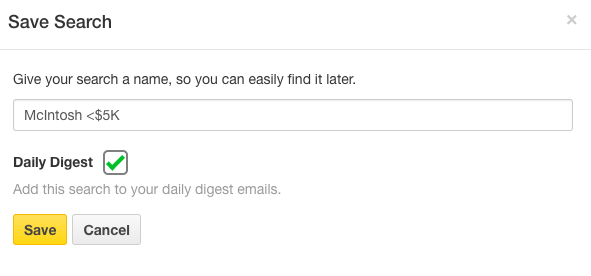 Accessing Your Saved Searches
Saved Searches are anchored in the top-left of the sidebar of the Search and Browse pages. Click any saved search to instantly pull up your filters.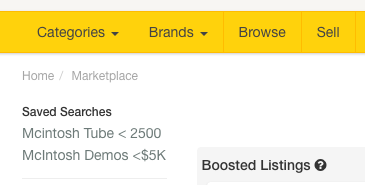 Managing Your Saved Searches
Saved Searches are managed in the Saved Searches tab of your Account Dashboard. You can view all of your Saved Searches there. You can also delete any you no longer need, as well as toggle whether or not to receive a Daily Digest email for a Saved Search.