Once you Connect your PayPal account you may notice something called a Merchant ID. With our PayPal Integration, we no longer use your email address for PayPal transactions. Instead we use your PayPal Merchant ID for more security.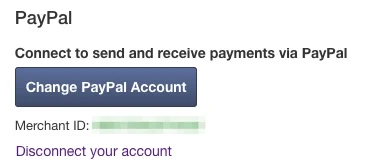 What is a PayPal Merchant ID?
A PayPal merchant ID, or "MID," is a 13-character string of random numbers and letters. This ID is assigned to you automatically, once you open a PayPal account. The important thing to remember is that you cannot change nor edit this number. As mentioned, this ID is used to identify the merchant without exposing their email to web crawlers.
But I Have a Personal PayPal Account...
As previously mentioned, all PayPal accounts have a Merchant ID; it's just Merchant IDs aren't readily displayed in your account settings like they are for Business accounts. If you have a Personal PayPal Account you can continue to use that on Audiogon for hobby buying and selling.
Do I Need To Upgrade My PayPal to a Business Account?
No. If you are just a hobbyist who buys and sells some gear, you do not. If you are a business, you should consider upgrading to a PayPal Business Account, as it It offers features like payment processing, invoicing, and tracking expenses.