Audiogon allows you the ability to use simple formatting and even HTML to enhance your listings. Users in our Verified Dealer Program enjoy expanded formatting options that are not available to private users.
Text Formatting
Private Users
When filling out your description, Audiogon includes a WSYIWYG editor that allows you basic formatting options like Bold, Italics and Underline. Audiogon supports headers from h1 through h3, and formatted text to organize your listing sections.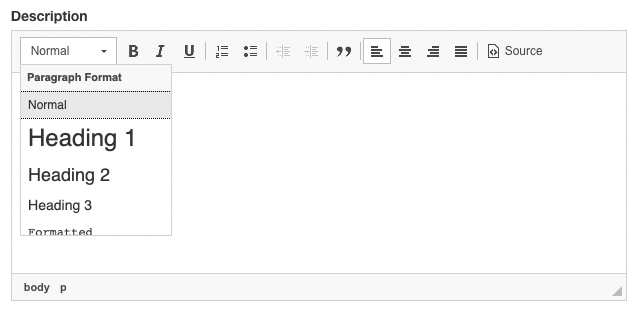 Just highlight the text you want to apply formatting to and click on the appropriate option.
In addition, you can create ordered and unordered lists, which may come in handy when you want to include specs in a tidy fashion. Use the indention control buttons if you need to create a sub-point under your list items.
Other options include block quotes, horizontal alignment, and direct HTML editing.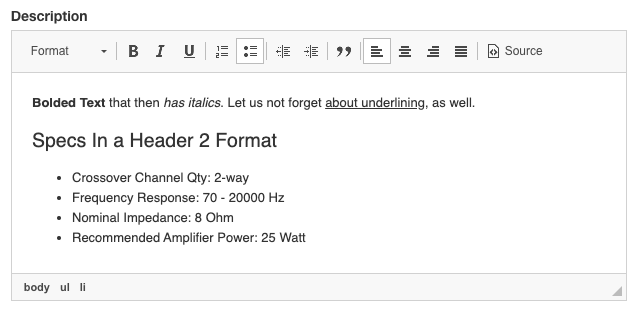 Dealers
Users in our Verified Dealer Program have expanded options to style and format their listings. Additional options for Dealers:
Font Type & Font Size
Text Color
Image Embedding from external source
Table
Link creation with Anchor options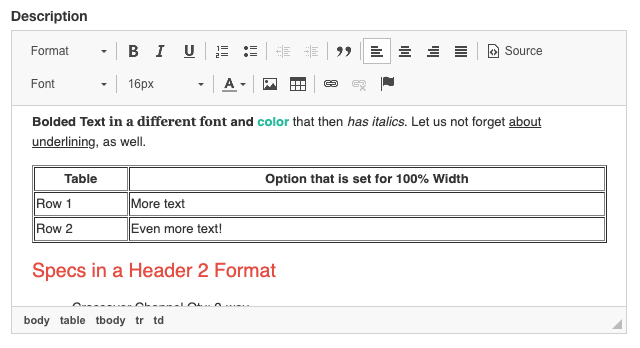 Adding URLs
Private Users
Audiogon allows users to include links on Pay Now listings. If you add a URL in your listing description, you will not be able to choose the Pay Later listing type. This is to protect against users attempting to take transactions off-site, as well as spam and phishing attempts.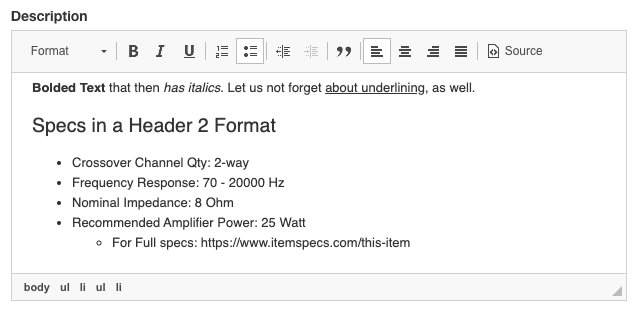 Dealers
Dealers are free to include links to their website or other sources. Our editor makes this easier with the insert link button, and the results end up with a clickable link, unlike with Private Users. Clicking on the Insert Link (or highlighting text and pressing CMD+K on MacOS or CTRL+K on PC) will bring up a menu with customizable options.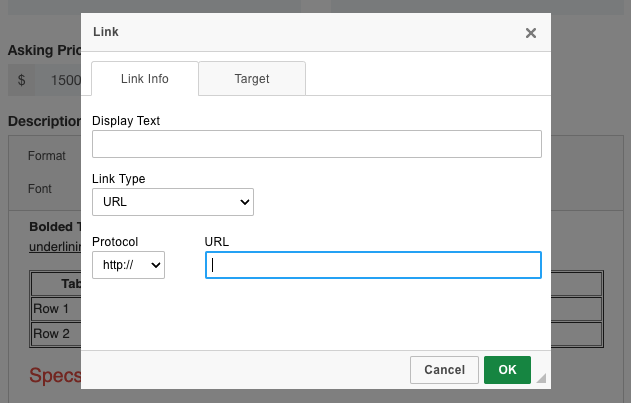 Pasting your hyperlink into the URL field will automatically update the protocol appropriately. And if you want your URL to appear as text instead of the full url, fill out your display text.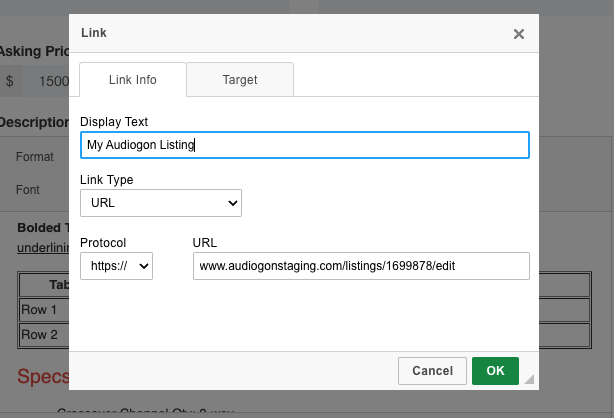 If you want the URL to open in a new tab or window, choose that on the target tab.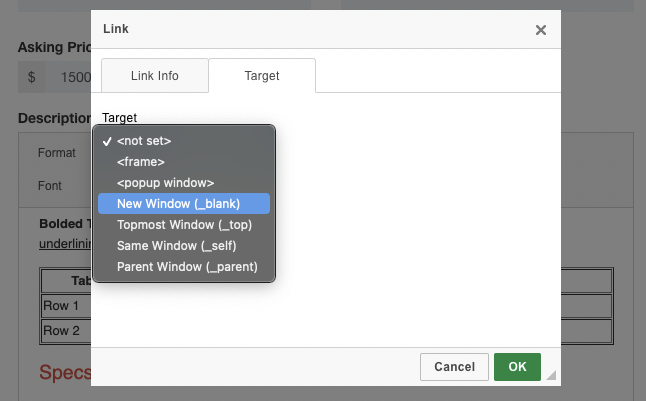 Other links our editor can easily help you create phone call and email links, to make it easy for users to contact you with one click.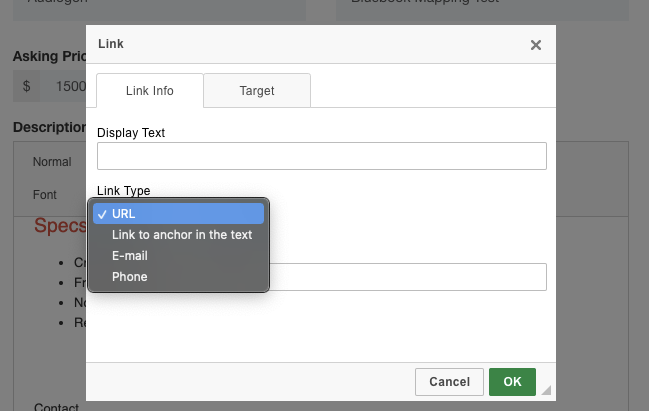 In
In addition, you can create an anchor link to an internal part in your listing. This is helpful if you want to bring attention to some other messaging/offer.
Highlight the text or image that you want to link and press the Flag (Anchor Link) Icon and create a name for it.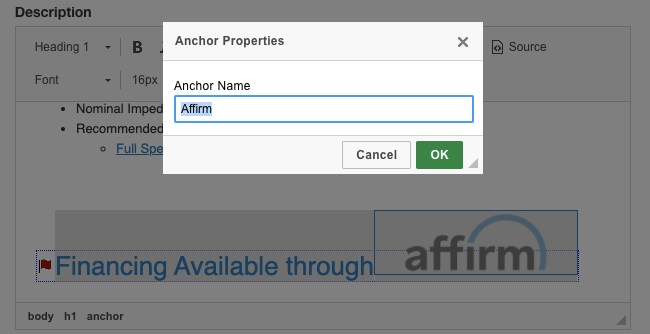 Then highlight what text/image can be clicked on to send people there. Highlight the content, click the Link icon, and choose the "Link to anchor in the text" Link Type option. Select the Anchor Name you created in the previous step that you want linked.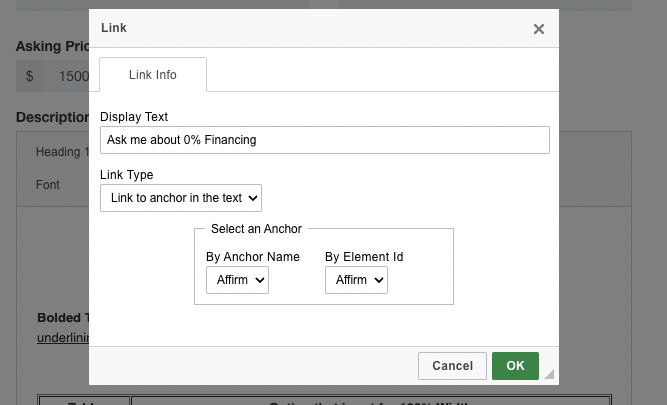 Now, clicking on that link will take you to the anchor.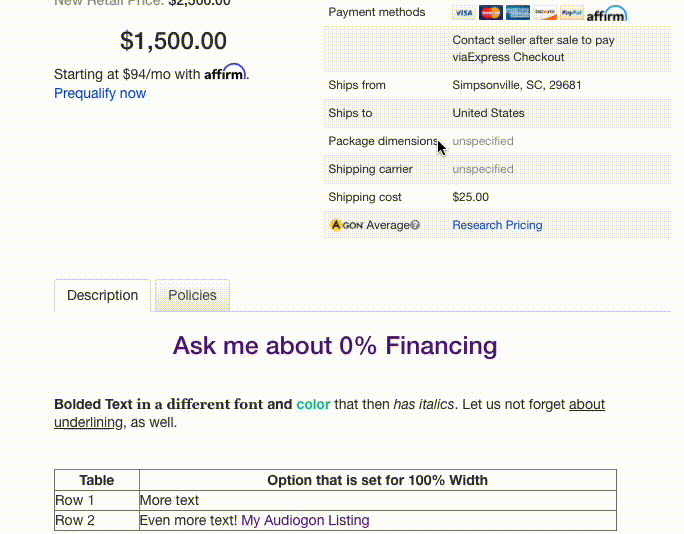 Embedding Images
Audiogon also allows Dealers to add images into their listing. While product images belong in their appropriate section, there may be cases where you would want to include an additional image.
Users in our Dealer Program may want to include their company logo or trade accreditations.
To add an image to your listing, click on the Insert Image icon, and supply the URL of your hosted image.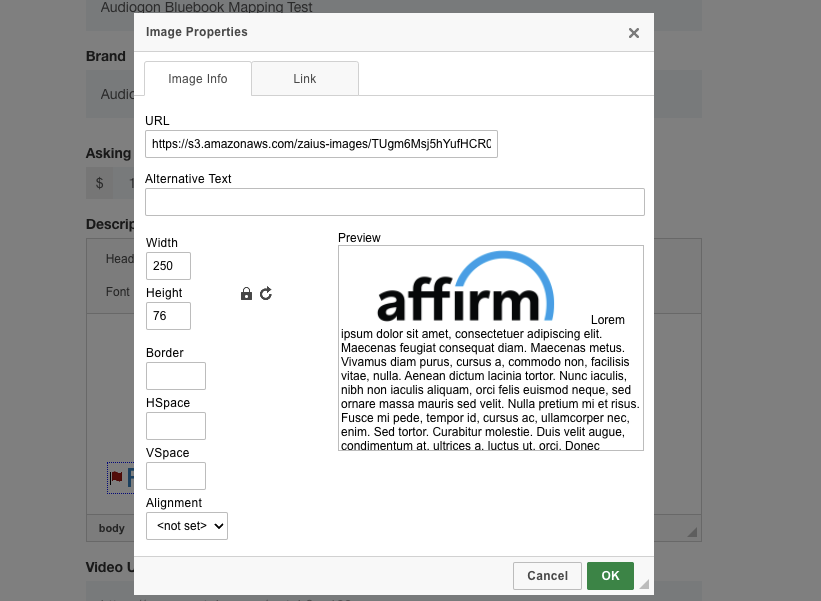 It is ideal that your image is already the size you need it to be for your listing, but you can adjust the width and height manually at this point. You should ensure that your embedded image is of appropriate file size—you should not add a 4.5MB PNG or GIF as this will affect users' page load times. If your image needs to link elsewhere then you may go to the Link tab and set that.
Embedding Video
While users in our Dealer Program have the ability to embed product videos in their listings, we do not allow private users to embed of video or other rich media. Though, you could use a screencap image from your video with a play button overlay and wrap it in <a> tags to mimic an embedded video. This will show users that there is a video to watch. It will just take them to a different site, as opposed to watching it directly on your Audiogon listing.