What are Upgrades?
Upgrades are a way to draw attention to your listing. These add-ons are designed to make your listing stand out amongst the crowd.
Purchasing Upgrades
Once you've selected which payment methods you will accept from potential buyers, you will be directed to the Listing Upgrades page. There are three types of Upgrades available for purchase: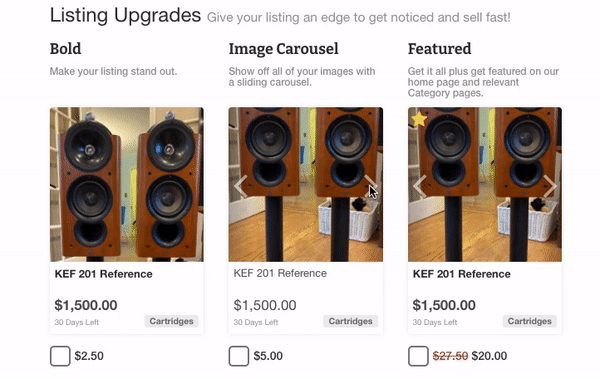 Upgrades will be automatically applied to the item you are listing at time of your purchase.
If you choose not to purchase Upgrades at the initial time of listing, you can go back to your listing page later and purchase them utilizing the "Upgrade Listing" button at the top of the page.
Types of Upgrades
BOLD Utilizes a bold font for your listing title, pricing and description. $2.50
IMAGE CAROUSEL Dynamically cycles through your listing images to catch the eye. $5.00
FEATURED Includes both BOLD and IMAGE CAROUSEL upgrades, as well as prominent positioning on our home page and relevant, priority placement on category pages. Choosing Featured will also bundle the bold and image carousel upgrades at a discount.
Need more help? Feel free to submit a support request.