Similar to reserves on auctions where you can set your lowest price for the purchase of your item, Classifieds can set an optional Offer Reserve Price. This is specific to your individual listing, and will only allow offers above the price you set. Anything lower is automatically rejected.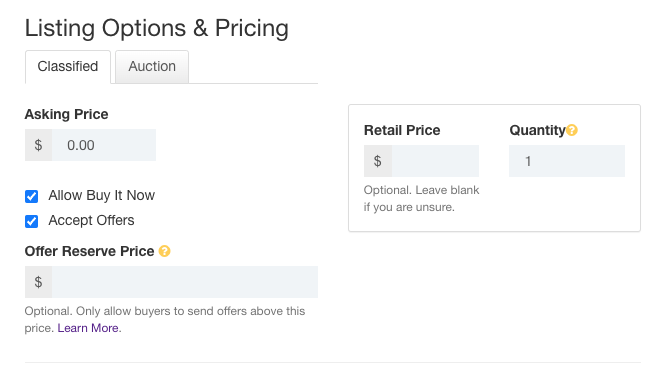 Sometimes you already know how much money you have invested and how much you'll need to recoup or accept so there's no need to haggle with someone offering less than that. Offer Reserve Prices allow for more granular control to save you and potential buyers time by haggling over a price neither of you really want.
We suggest an Offer Reserve Price ~10% of your lowest because you can always counter-offer.
Example
You are selling an amp with a Buy It Now Asking Price of $5,000, but you also want to allow offers.
You're hoping for around ~$4,400 because you want to recoup the cost of putting in new tubes and having it repaired/inspected by your local dealer prior to listing.
An Offer Reserve Price of $4,000 would allow offers close to what you want, while giving you the ability to counter offer with a qualified buyer. An offer of $3,900 would be automatically rejected.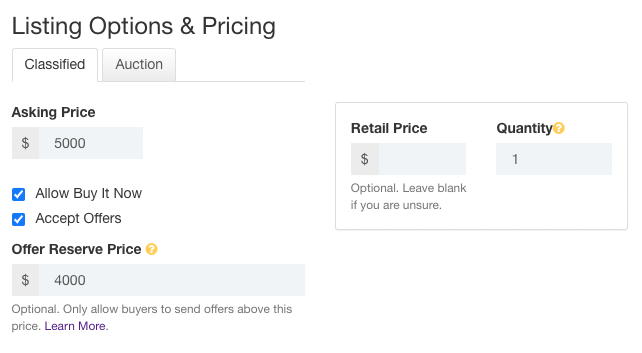 This feature is separate from the Reject Low-Ball Offers account setting that automatically rejects offers less than 55% of your asking price on all your listings. Reject Low-Ball Offers is a global setting that is applied to all your listings that accept offers.